Volumn Up - Music Playing "VIETNAM"


WVV 2018 STATE MEETING
JANUARY 27 , 2018
Hosted By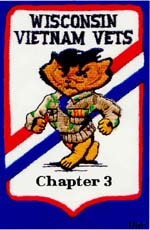 LZ Dells Brochure
CLICK HERE







]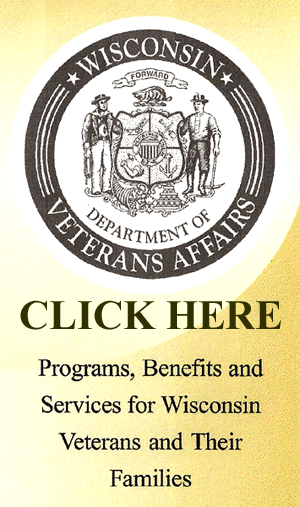 \


Wisconsin Department of Veterans Affairs
Wisconsin Vietnam Veterans Registry
Wisconsin - Your County Vets Service Officers

Music of the 60's and 70's Vietnam Radio

"The Sound that Binds"
The Huey

POW/MIA
WWII
73,624

Korea
7,883

Cold War
126

Vietnam
1,642

OEF / Others
6

Total
83,281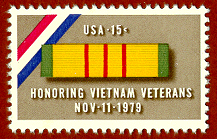 Agent Orange Guide To Benefits

Milwaukee Vet Center
5401 N. 76th St.
Milwaukee, WI 53218
Phone: 414.536.1301

La Crosse Vet Center
20 Copeland Ave.
La Crosse, WI 54601
Phone: 608.782.4403

Green Bay Vet Center
1600 S. Ashland Ave.
Green Bay, WI 54304
Phone: 920.435.5650

Madison Vet Center
706 Williamson St.
Madison, WI 53703
Phone: 608.264.5342
Department of Veterans Affairs
Wisconsin Veterans Medical Facilities
Military Families-Directory of Services and Resources
Wisconsin Veterans Home-King
Wisconsin Veterans Home-Union Grove
Northern Wisconsin Vets Memorial Cemetery
Central Wisconsin Vets Memorial Cemetery
Southern Wisconsin Vets Memorial Cemetery
WISCONSIN'S FALLEN HERO'S
OBTAINING MEDALS:
OBTAINING MILITARY RECORDS/DOCUMENTS
VIETNAM IN MEMORY PLAQUE PROJECT

eVetRecs
Request Copies of Military Personnel Records
Welcome to our online military personnel records request system.
Use our system to create a customized order form to request information from your,
or your relative's, military personnel records. You may use this system if you are:
A military veteran, or Next of kin of a deceased, former member of the military
The next of kin can be any of the following: surviving spouse that has
not remarried, father, mother, son, daughter, sister, or brother.